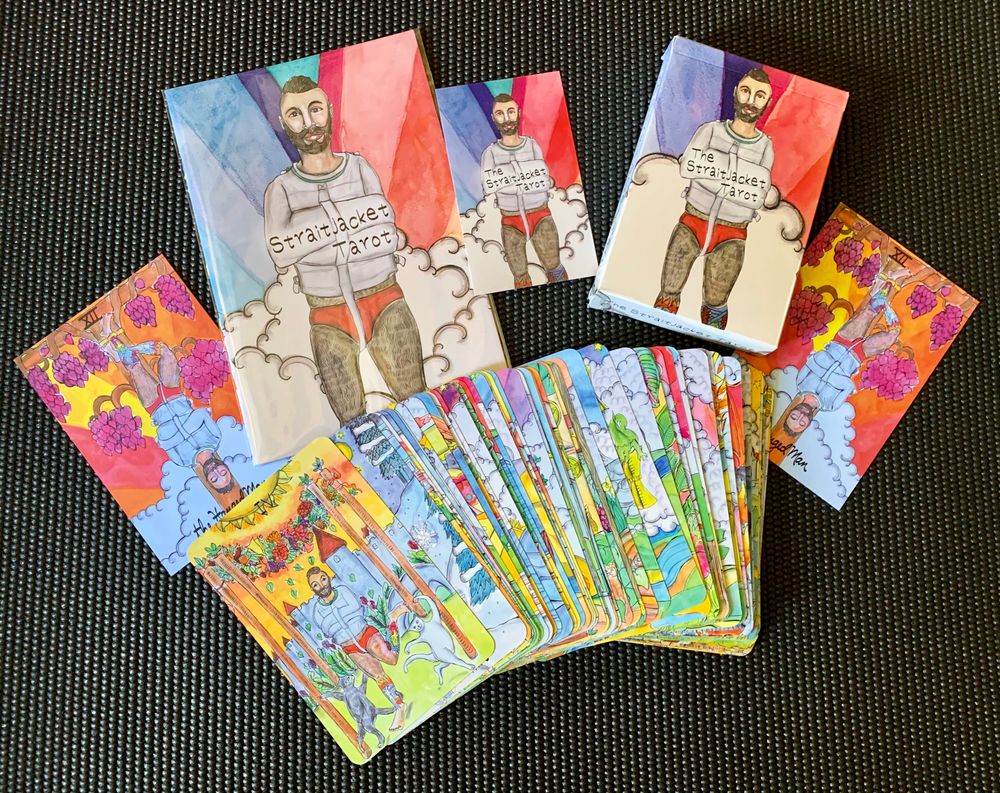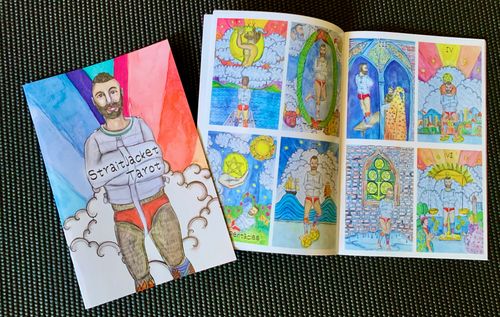 the straitjacket tarot is now available
The Straitjacket Tarot is a real, working and complete tarot deck featuring the 78 "mysteries" cards that include the major and minor arcana in traditional settings with a twist!  
This fun and unforgettable tarot deck not only features the art of Paul Straitjacket, it's the artist as the archetype in each "mystery". Some travel The Fool's Journey in jeans and t-shirt. This Spiritual Seeker wears his favorite straitjacket and speedo! 
The Straitjacket Tarot Complete Deck and Booklet Set features the full extra large 4"x6" premium 78 card deck featuring both the complete major and minor arcana! The Deck is housed in its own premium smooth full color tuck box and both the cards and box are  absolutely alive in glorious technicolor-toned magic and beauty!  
The Straitjacket Tarot Deck also includes a beautiful 4x6 signed and numbered bonus card, and includes the full color 6"x9" collectors booklet (100 pound glossy paper) which includes the complete artwork of each major and minor arcana cards (in their respective suits and order.   
Included in this complete set is the 3"x5" full color sticker that features the Straitjacket Tarot box art and two of the promotional postcards for the Straitjacket Tarot (featuring The Hanged Man), Straitjacket Tarot Fan Club Membership Card, Die-cut "Embrace Your Fetishes" Straitjacket Sticker (VERY rare!) and Welcome Letter!
Everything in the Straitjacket Tarot (the deck, booklet, stickers and all material)
is created, printed and manufactured in the USA! 
This special edition tarot deck is limited to only 200.  
Each Complete Set
(Deck, Booklet,Bonus Card, Promo Postcards and Sticker): 
$60 USD  
$14.95 Shipping with insurance and tracking  
SHIPPING WITHIN THE USA ONLY
(NOT AVAILABLE FOR SHIPPING OVERSEAS). 
Shipping is through FedEx with tracking and insurance and is shipped within two business days! 
THE STRAITJACKET TAROT IS AVAILABLE ONLY  THROUGH THIS WEBSITE.